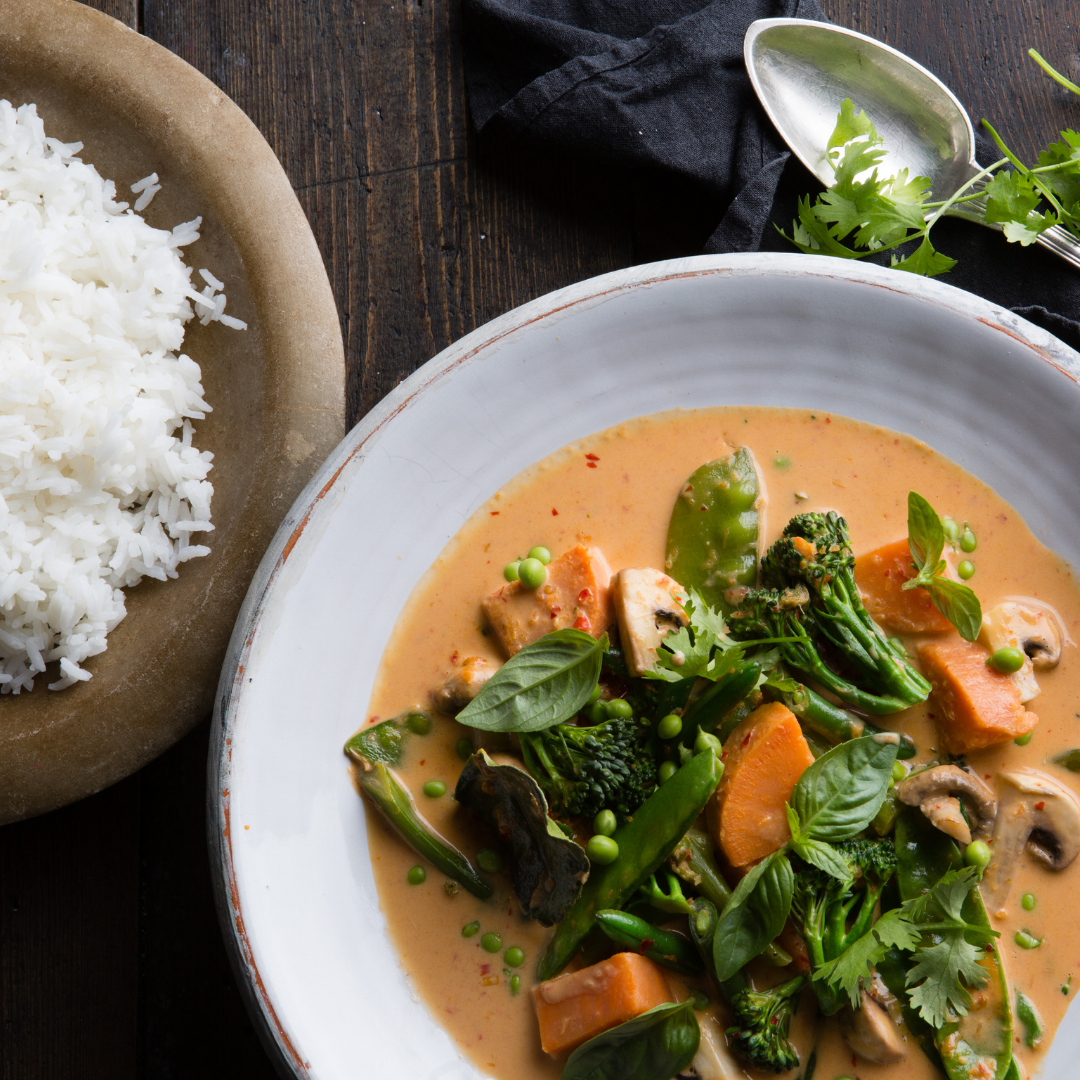 Coconut Thai Vegetable Curry with Chickpeas
Serves 6
You'll find it delicious and nutritious because:
Eggplants are a great source of fibre, folate, manganese and antioxidants. Eggplants are also low in carbohydrates, which makes them a perfect inclusion in a weight loss or weight management dietary pattern.
Ingredients
• 2 tbsp. olive oil
• 2 x 400ml tins coconut milk
• 1 x 400ml tin diced tomatoes
• 1 x 400g tin chickpeas, drained and rinsed
• 1 brown onion, finely chopped
• 2-3 garlic cloves, crushed
• 3 cm piece fresh ginger, peeled and grated
• Thai Red Curry Paste (amount per meal specified on jar)
• 2 large carrots, diced
• 1kg butternut pumpkin, cubed (medium)
• 2 medium eggplants, cubed
• 1 ½ cup broccoli florets
• 1 ½ cup cauliflower florets
• 2 tbsp. tamari
• ½ tbsp. coconut sugar
• 1 tbsp. lime juice
• ½ – 1 cup per person Brown rice or Brown rice / Quinoa mix, to serve
Method
Heat olive oil in a large saucepan over medium heat. Add onion, garlic and ginger, cook for 4 minutes until soft. Next add carrot and cook for a further 5 minutes.

Add the coconut milk, curry paste, diced tomatoes and bring to a boil.

Stir in butternut pumpkin, chickpeas and eggplant cubes. Reduce to a simmer then cover and cook for 10 minutes. Then add broccoli and cauliflower florets and cook for another 5-10 minutes until all vegetables are tender but not mushy.

Stir in the tamari, coconut sugar and lime juice.

Serve over warm rice. Enjoy.